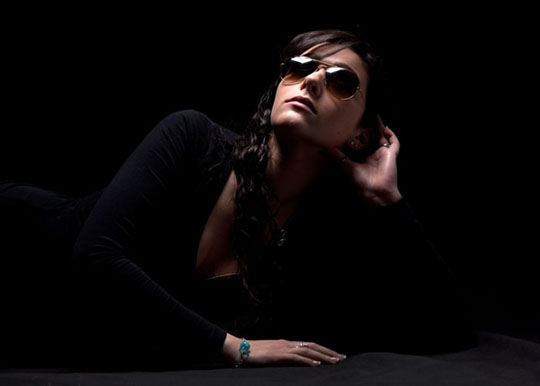 If you are a strobist photographer or a fan of speedlites – this blog is for you! Rick Sammon, Professional Photographer, Canon Explorer of Light & Westcott Top Endorsed Pro shares with us a few tips when using speedlites to shoot portraits.
Note: Each of the tip titles below link to Rick Sammon's original post featuring setups & final images as well as other detailed information.
By positioning the subject slightly in front of the softbox you will be able to achieve a great profile shot. When you experiment with this shot be sure to adjust your subject's position, flash output and angle of your softbox. A softbox is necessary to achieve this look. Rick highly recommends the 28″ Medium Apollo.
Position your light & softbox directly above your subject and feather the light. You will be able to create a great contrast to your image as well as add some excellent mood to your image. Rick regularly recommends using a "voice activated light stand" if you do not have a boom arm of some type to get your softbox in this position.
When you are looking to add a little light in the background, be sure to bring in another speedlite. This also causes separation from the background and your subjects. But when you see just a regular flash on the background, it can appear not so interesting. So, Rick suggests using different objects to create random patterns on the wall behind your subject. Then for that extra added punch, add a colored gel to your flash. This will add depth, dimension and color!
If you are trying something a bit different or even on the artistic side, try this one out! Try positioning your speedlite, with a grid on it and colored gel, behind your subject or just out of the frame. This will create an amazing silhouette of your subject as well as add an artistic look to your work.
Any artist, whether they are a painter, photographer or builder, always refers to some of the greatest works of art to inspire them in some way. For this speedlite tip, Rick recommends studying works of master painters to see how they use shadows and highlights to achieve their masterpieces.
When you use any softbox, it is always good to keep in mind the following: "The larger the light, the softer the light. The closer the light, the softer the light." Anytime you are photographing your subjects, be sure to flatter them with the light. Don't be afraid of placing the softbox close to your subjects. Utilize your speedlite in portable softboxes allowing you ultimate control while you are on location.
Speedlite Tips Recap
When going on location, it is important to always have a few tricks in your back pocket. The above are some great tips to change up your photography! Many of the tips can be achieved by simply moving your feet or moving the flash/softbox up or down. So as Rick always says – Explore the Light – and of course – have fun when you experiment with the tips above!
Westcott Lighting Gear in Action