Dave Cross in Dallas: The Basics of Portrait Lighting
09/19/2015 @ 12:00 pm

-

4:00 pm

$40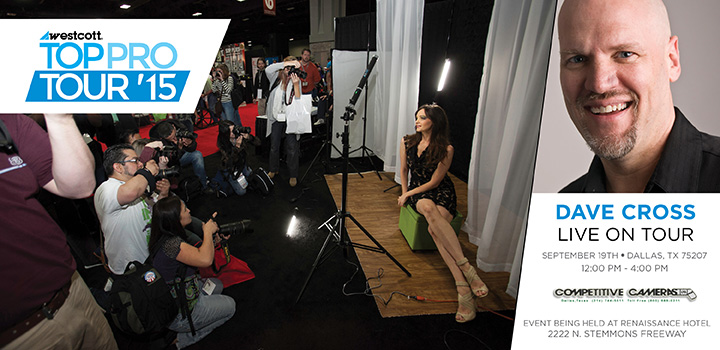 In this introduction to lighting for portrait photography, Westcott Top Pro Photographer Dave Cross will cover the basics of understanding lighting, how to position lights, the role of softboxes and umbrellas along with the difference that each of these light modifiers will provide, and some hints of posing your subject that can be very useful for all photographers. Topics will include:
Quality, quantity and direction of light
Camera settings
Classic lighting patterns – and making them your own
Using constant lights
The role of modifiers
Posing 101
Hands-on Shooting
Once Dave explains the process, attendees will be encouraged to take professional photos of our model using lighting gear and have Dave Cross give instant feedback and advice.
Part Two: Retouching Demonstration
Dave will demonstrate how he enhances portraits using Photoshop, including covering up blemishes, whitening teeth, smoothing imperfections, reducing wrinkles and more.
---
---
For 25 years, Dave Cross has been helping photographers and creative professionals get the most out of their Adobe software. Since 1987, Dave has taught Photoshop, Illustrator and InDesign to thousands of users around the world. He has a Bachelor of Education, is an Adobe Certified Instructor in Photoshop CS6 and is a Certified Technical Trainer. Dave has taught for Adobe, at Photoshop World, the Texas School of Photography, the Santa Fe Workshops, Imaging USA and at numerous corporate locations.
Dave has written many articles and several books, co-hosted Photoshop User TV and has appeared in many DVDs and online courses for Kelby Training, creativeLIVE and udemy.com. He runs Dave Cross Workshops in his own photo studio and workshop space in Tampa, FL.
Over the last 13 years, Dave has taught Photoshop in every state in the United States, throughout Canada, and in Europe, consistently earning rave reviews. Dave is well-known for his engaging style, his humor and his ability to make complex topics easy to understand. In 2009 Dave was inducted into the Photoshop Hall of Fame.
Related Events