From Zero to SHABANG! with Peter Hurley
12/08/2017 @ 7:00 pm

-

9:00 pm

$50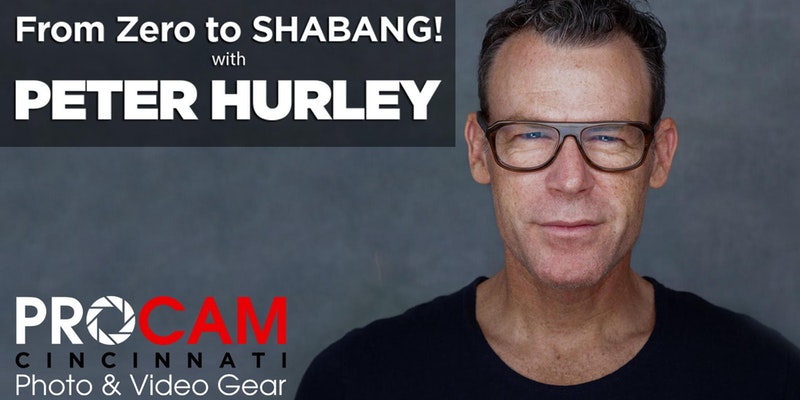 Every portrait photographer knows the feeling – the scene is set, the lighting is perfect – and the moment you look through your viewfinder your subject looks like the life just got sucked right out of them. Humans beings tend to behave in strange and usual ways when placed in front of the camera and our job as portrait photographers becomes not only to technically capture a quality image, but to coach our subjects toward what Peter considers that elusive SHABANG'in shot!
No one is better at this than Peter Hurley – in fact, he is the master at engaging clients, creating an atmosphere that pulls out their personality and infuses it directly into the image, his constant goal is to take someone with a bland look on their face, and turning it into something captivating.
In this lecture, Peter will discuss his Hurley Headshot System and signature moves for getting a subject to come alive in front of the camera. Learn how to move your subject toward that moment that Peter likes to call a SHABANG!; the instant when adrenalin, emotion and drama all come together allowing you to capture an image that will make the artist inside you stop and say, "wow!"
ABOUT PETER
Peter Hurley is an expert in human facial expression and uses his specialized techniques to create stunning portraits and headshots for his clientele.
He shoots out of his Chelsea studio when he isn't traveling the world teaching his craft. He is the founder of the Headshot Crew, the largest group of headshot specialists in the world with over 13,000 members. Peter authored his first book "The Headshot" which has been considered the definitive guide to headshot photography and a #1 best seller in photography on Amazon. He has spoken on the subject of human behavior in front of the camera for TEDx, Google, Apple, Microsoft, Adobe and GoDaddy to name a few. Peter is a Westcott Top Pro and a Canon Explorer of Light. He travels the world teaching his signature photography workshops.
PETER HURLEY | PHOTOGRAPHER
Peter Hurley is a premier portrait and headshot photographer with studios in New York City and Los Angeles. He is known for the genuine expressions he captures in his actors headshots and executive portraits.
PETER HURLEY | EDUCATOR
He is an expert on human facial expression and has spoken on the subject for TEDx, Google, Apple, Microsoft, Adobe and GoDaddy to name a few. Peter is also a Canon Explorer of Light and teaches his signature photography workshops all over the world. He is the author of the recently published book The Headshot the definitive guide to headshot photography.
Related Events