Simply Beautiful Light Workshop in Columbus
07/21/2018 @ 12:00 pm

-

4:00 pm

$29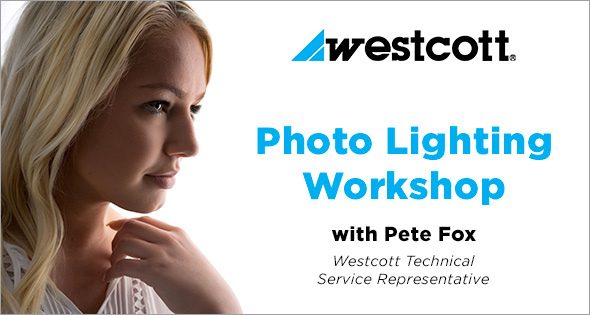 Natural light offers some of the most beautiful and challenging scenarios for portrait lighting. Westcott representative Pete Fox will bring you the simple portrait techniques he has refined from several years of experience photographing portraits and training photographers. He will cover recognizing good light and the tools to manipulate it when needed.
This is a hands-on event, so bring your camera. We will have a model, two portable light setups, reflectors, and other tools on hand. Participants should review setting their camera's manual functions for shutter speed, aperture (f-stop), ISO and white balance before attending this photo walk.
Should the weather fail to cooperate, we will use an indoor setting to illustrate many of the same techniques and tools with an emphasis on light placement and light quality.
This event is your opportunity to learn while capturing actual images.
For those interested, we'll meet after the class at a local restaurant to discuss our images captured. This is optional and food/beverage costs are not included in the class registration fee.
About MPEX Learning Studio
The Midwest Photo Learning Studio is located in Columbus, Ohio. Midwest Photo has been helping photographers, from amateur to professional, get the right gear for 25 years. The Learning Studio is a way for photographers to expand their knowledge base and continue their education in photography.
About J. Peter Fox
Pete is an award-winning photographer and the Technical Service Representative at Westcott. He educates clients on lighting and light modifier choices and offers advice to photographers to aid them in solving lighting challenges. After graduating with a Bachelor of Fine Arts from Bowling Green State University, he began his career in photography as a wedding photographer. Before joining Westcott, Pete managed a successful studio specializing in Senior Portraits and Sports. He was also a national photography trainer for Prestige Portraits and previously taught studio photography at Owens College.
Related Events