Join Westcott at the largest trade show and convention for wedding and portrait photographers this winter at the Wedding and Portrait Photographers International 2014 Conference and Expo. This event is being held at the MGM Grand in the stunning Las Vegas, Nevada from February 27th through March 6th 2014. There you will join over 13,000 other photographers from around the world for a week of networking, socializing, learning, and more. This event is a social event, major industry trade show, and educational gathering rolled into one week that you won't forget.
CONFERENCE
WPPI University – February 28 & March 1, 2014
WPPI University is a 1-day workshop for emerging and professional photographers. You will learn from working professional photographers in the industry how to strengthen your shooting skills, market your photography services and how to run a profitable business. WPPI University includes our signature round-table portfolio review where your images will be reviewed and critiqued by top professionals. A WPPI Full Conference Pass is not required to register for WPPI University.
PLUS CLASS – February 27 & 28, 2014
A PLUS Class is an in-depth 2-day, hands-on workshop limited to 20 participants. Each class is designed to help you conquer challenges while developing your skills, techniques and artistry. A WPPI Full Conference Pass is required to purchase a PLUS class. A WPPI Membership is not required.
MASTER CLASS – March 2-5, 2014
A Master Class is a focused 2-hour, hands-on session limited to 50 participants that provides an intimate learning experience. Master Class tracks cover a wide variety of vital photography topics including Lighting/Posing, Wedding, Portrait, Boudoir, Business/Marketing, Video and more. A WPPI Full Conference Pass is required to purchase a Master Class. A WPPI Membership is not required. TIP: Register early, Master Classes sell out quickly.
PLATFORM CLASS – March 2-6, 2014
A Platform Class is a 1-hour, theatre-style session that prepares you for everything from being a better photographer to running a more successful and profitable business, and more. Eleven learning tracks include Lighting, Wedding, Portrait, Post Production, Filmmaking, Business, Inspirational, Hybrid, Boudoir, Posing and Seniors. You choose from over 100 Platform classes when you purchase a Full Conference Pass.
PreBoard – A Full Conference Pass entitles you to take as many Platform Classes as you like however, these classes are very popular and seating is provided on a first-come, first served basis. Pre-board guarantees you admission to 5 Platform classes and provides you with priority access to the classroom up to 15 minutes before the class starts. During registration, you may pre-board by selecting up to 5 Platform classes that you do not want to miss. All other Platform Classes you attend will be on first-come, first served basis.
EXPO
WPPI Launch Pad – A WPPI Full Conference Pass gives you access to Launch Pad. Take a sneak peek at the latest and greatest products from WPPI's exhibitors before the expo opens. WPPI?s Launch Pad will be open to all media and WPPI attendees.
3-day Expo – WPPI 2013 drew 314 exhibitors to its convention space in the MGM Grand Hotel in Las Vegas. WPPI 2014 will be no different. Experience new photographic products and solutions first-hand from the biggest and best manufacturers, solution providers and retailers serving the needs of emerging and professional photographers. Touch, test and compare the latest products and find some amazing offers too.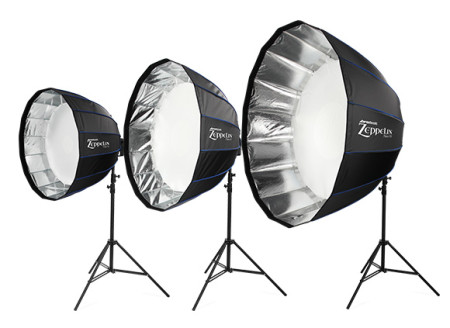 The expo will also be featuring the world-wide release of The Zeppelin, Westcott's newest addition to their softbox line-up. A dream modifier for commercial and fashion photographers, the Zeppelin Deep Parabolic softbox features three light mounting options, the highest-quality heat-resistant fabrics, and meticulous construction for the most pristine light output on the market. You can see all three Zeppelin Deep Parabolics before their release only at the 2014 WPPI Expo.