In this series Michael Corsentino will cover the art of portrait photography. He will show the inspiration behind each of the images and how he shot them!
Environmental Portraits
Some of my favorite promotional images are environmental. This is because photographing subjects on location and in front of meaningful backgrounds helps tell a more complete story, and adds depth and context to your portraits. I think of it like actors on a stage with just the  right set design and wardrobe for the production at hand. Fellow photographers, Byron and Wendy Roe, came to me for a promotional portrait to use for their photography business. It was important to them that their portrait conveyed personality, displayed their individuality and helped differentiate them from their competition among perspective clients.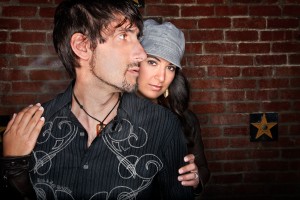 Using a Ring Light, with it's signature edgy fashion quality, seemed like the perfect choice to light this fashionable, artistic and contemporary couple. Using a brick wall as the background adds to the edgy, urban quality I was after and served as a nice compliment to their wardrobe. By placing Bryon in the foreground and Wendy behind him, I've emphasized his strength and his role of husband and protector as contrasted with Wendy's more feminine and supporting role in the background.
Details & Inspiration for Shot Above
Exposure: ISO 100, f/13, 1/200 second with a Canon EF 16-35mm f/2.8L USM lens.
Resources: