As the Director of Photography for Saturday Night Live's Film Unit, Alex Buono has had the ability to "play" with lots of different lighting equipment, finding the best options for illuminating a massive variety of scenes. Sometimes, the lights that best fit the bill on any given video production day are lights that may be quite unexpected.
When planning a shoot for a recent SNL skit entitled Red Flag, Alex was looking to recreate a warm, glamorous scene. Knowing that he would need to use a large tungsten light source, Alex chose to use a single Spiderlite modified by a Silver 7' Bounce Umbrella. This light source is very popular in the still photography industry, but is less known for use in video production.
The Spiderlite is a continuous light source that can be fitted with both tungsten or fluorescent bulbs, a factor very important to filmmakers and photographers you shoot a variety of styles.
Alex modified his tungsten-fitted Spiderlite with a large silver parabolic umbrella. While this reflective umbrella is also available with a white interior, Alex specifically choose the silver version as he finds that it gives a rich, high-end appearance when paired with tungsten lights. These large parabolic umbrellas create light very similar to that of other large parabolic light sources – but at a fraction of the cost.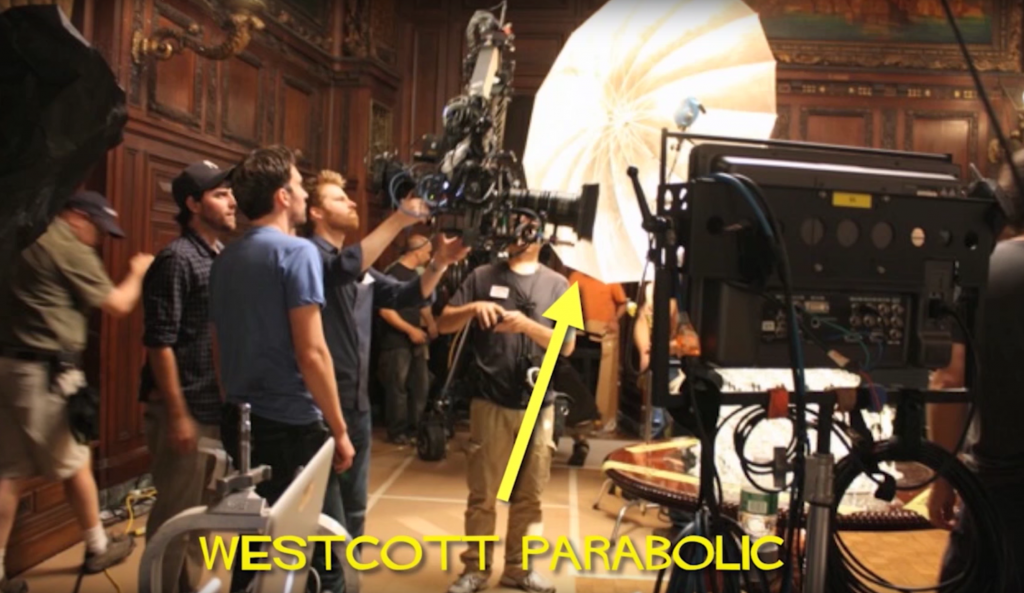 Click here to see the skit, starring Kristen Wiig, Andy Samberg, Jason Sudekis, and John Hamm.
This video was captured during Alex Buono's Visual Storytelling 2 workshop.

Lighting Gear in Action
Spiderlite TD

6220

Tungsten Halogen Bulbs (150-watt, 6-pack)

6826