I'm sure everyone has had one of those moments when it would seem the planets have aligned in synchronicity, but not in your favor. This was one of those times. In all honesty, I can't remember a bigger challenge than this one.
I was commissioned to shoot a Singer/Songwriter with her cello in my studio for press images and website. To layout the scenario, days prior to the shoot, I was in Las Vegas doing a celebrity shoot, and we packed up all my lighting equipment including power packs, stands and pretty much everything I use to shoot in studio. All this was still packed up in a truck, two hours away. What did I have here? Luckily when driving back from Vegas, I brought back two Westcott Ice Lights with the extended 2-5 hour Power Pack, and my camera bag. I also had a new Vintage backdrop I had just received from Jennifer at Westcott.
Back to our photography session… Just then, the door bell rings, and low and behold, my client arrives with her suitcase full of clothing, her hair in rollers, and makeup bag in hand. I set her up in a room to get ready, which allowed me time as well to sort out my approach to the shoot. Two weeks prior I met with my client, Estani, to go over the looks she wanted to accomplish from the session, which gave me an idea on what to shoot for.
I also have shot with Estani before, which made it a little more relaxing and informal. I searched through my stock room to see what was left behind, and collect as much odds and ends to build a set. I found two stands for my background, which I quickly put up, one boom arm and stand for my main light, one large soft box with TD6 Spider Lite, but with only two bulbs. I later would use this as my fill. I also found a single boom arm. These arms came in handy, as my assistants were out for the long weekend.
When I said things did not seem to go right, they really did not go right.
I picked up my Canon camera ready to shoot, and what happens? It completely does not work. It will not turn on, and lets just say it's not cheap. I did not have a back up camera either. It so happened my dad stopped over to say hello, and with an answered prayer. He had in his car, a $500 Nikon he had recently picked up at Target to shoot small projects. This would have to do. It was a DSLR, but the lens was pretty cheap. It felt like plastic, and it had a limited range starting at F4.5. Really odd! I played around with it to familiarize myself with the controls. I found the shutter speed and ISO controls, but to save my life, I could not do anything with the Aperture. I was fixed at F4.5 and after 15 minutes of trying, I had to give up, as my subject was on the stool ready to shoot.
LIGHTING
Since the lighting was pre-determined at F4.5, I had to base my whole shoot at that stop.
It really did not bother me though, because I did not have much distance from subject to background, and the type of images we wanted to capture were with a very intimate and cinematic appeal. My subject wanted something sexy but without showing too much skin. She also wanted something "painterly" looking. I advised to shoot in the style of the works from famous painter, John Singer Sargent, one of my most inspired artist. The shallow depth of field, would allow me to light her face, some of the cello, and let the light just falloff 1/2 way down the body and background. This adds more emphasis on the subject as well.
[On a sidebar: When you nail the lighting, with proper Ratios, you can pull off almost anything with any camera equipment of choice.]
EXTENDING MY LIFE
Here is the only certainty of the day. Since I didn't have any of my power packs or strobes I was pretty confident I would get endless hours to test and shoot with these new life extending Power Packs for my ICE Lights. Now I begin to wave my magic lighting wands. I placed my new Westcott ICE battery operated continuous light, along with the 2-5hr. extended life attachment on a boom. The bottom of the light just screwed on. This light was placed just under four feet above my subject. It allowed me to feather the light coming just in front of Estani, and preventing hot spots on her face or the cello. You can actually see the light change as you grip the wand, and rotate both clockwise and counter clockwise.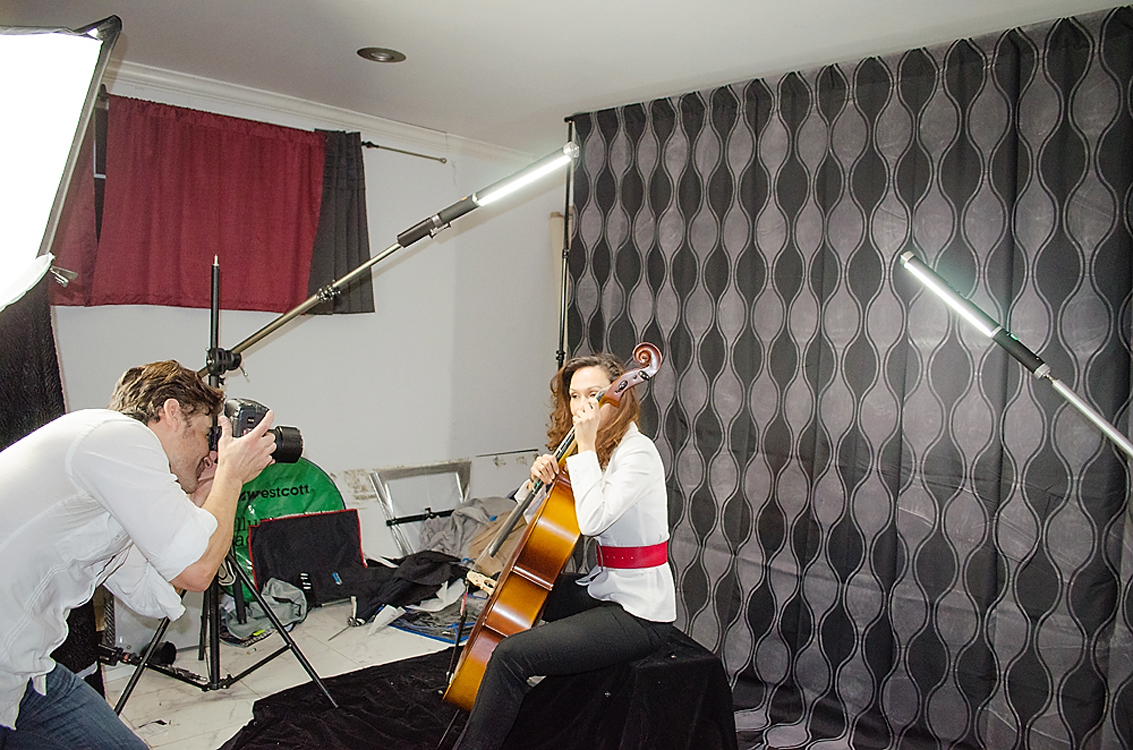 Hint: Placing the light too high, will cause deep shadows in the eye sockets. Finesse the lights until you see the eyes brighten, then pull back just a little for smooth tones.
This one light can pretty much do the trick all on its own. You can also dim the power up or down for just the right effect. In this case because of the distance, I had it at full power. I metered this light at F4. As a really weak fill, I placed a large Westcott softbox, just left of me and from the same angle as the main light, which was equipped with a TD6. As I mentioned earlier, I used only two of the six fluorescent daylight balanced bulbs. I had no choice, but in reality the power was just perfect. This light metered F2.8. I also clamped a black fabric halfway down the box to vignette the light and controlling a quick falloff onto the scene. Both lights combined gave me my camera reading of F4.5. As an added accent, I placed the second ICE Light on the other arm, and rotated the light to create a gradual falloff just off her left cheek and shoulder. This light was equal to the main light.
All in all, it turned out to be an amazing session. With the extended Power Packs for my ICE Lights, we were able to get through three clothing sessions, with plenty to spare. Never once did we need to turn off the lights.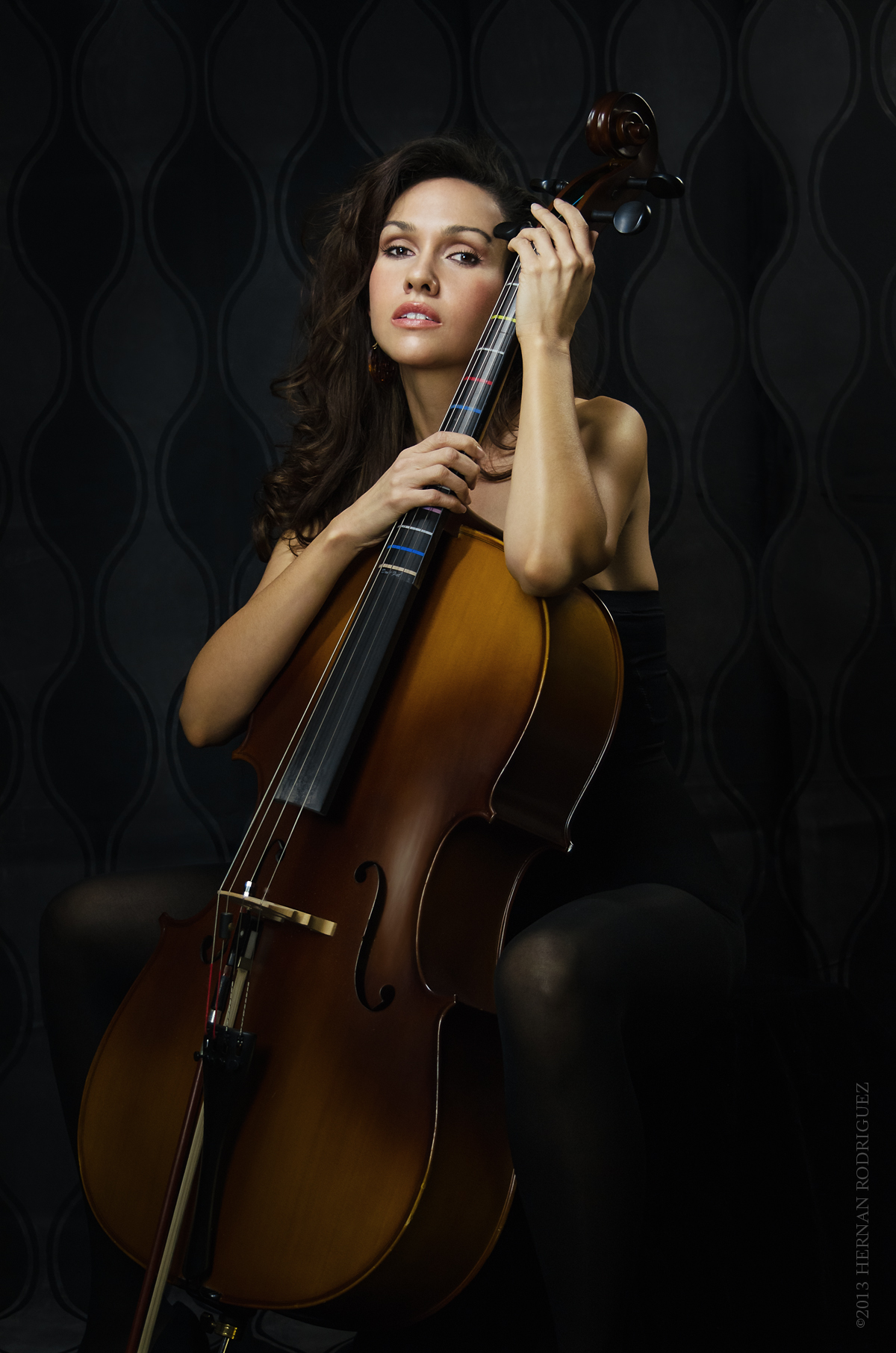 FINAL EXPOSURE: 1/60TH @ F4.5 @ ISO 400