Commercial and editorial automotive photographer Andrew Link uses light painting often to create stunning composite images. Light painting is the technique of using very slow shutter speeds to capture selectively illuminated objects and areas in a scene. 
Andrew's favorite tool for light painting, the Ice Light, is a portable daylight-balanced LED. Designed by renowned photographer Jerry Ghionis, The Ice Light has become a favorite amongst a variety of photographers and videographers across the globe. This light source has a pristine 5,200K color temperature and produces 1,160 lumens.
The Ice Light is built with a Lithium Ion battery that is fully encased in it's 1.3 lb. design. The Ice Light can run for 60 minutes at full power on a full charge with charging time at a mere 2.5 hours. This light source ships standard with a travel case, charger, and international converters making it perfect for on-location photo shoots like this.
As Andrew mentions, post-production for composite images can be quite tiresome. Light spill often illuminates the person holding the light during the lighting painting process. This increases the amount of time it takes to edit and compile these images.
To help further control the light output of the Ice Light, Andrew enlists the Ice Light Barndoors. Barndoors eliminate light spill, allowing him to eliminate the light spill on himself. This makes post-production editing much easier for Andrew. The Ice Light barndoors are available separately or in the Ice Pack accessory kit.
---
Without Barndoors
---
With Barndoors
---
Final Image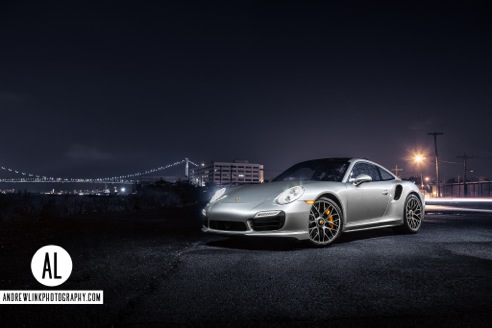 ---
To see more of Andrew's automotive photography, please visit andrewlinkphotography.com.