In this portrait photography video,
Yaneck Wasiek
, Westcott Top Pro and Founder of Wasio Faces, explains how he approaches individual headshot sessions and how to capture high-volume photos at business events and conferences. With over 12 years of expertise and experience capturing over 6,000 headshots a year, Yaneck explains three go-to workflows and set-ups for shooting headshots.
Defining High-Volume Headshots
When it comes to understanding high-volume headshot photography, Yaneck explains that it is not based on the number of people that are being photographed, instead based on how many people you're photographing per hour. For instance, if you shoot 100 subjects in three, eight-hour days, this would be considered lower volume engagement. If you instead photograph 60 people within two hours, this is very high volume engagement. Defining high-volume headshots comes down to how many people you capture per hour, or in other terms, how many minutes you have to photograph each person. A general rule of thumb is five minutes or less per person is considered high volume.
Individual Headshot Sessions
Shooting individual headshot sessions in the studio allows much more management over your lighting and time. To control the direction of the lighting and see results immediately, Yaneck always uses the three Flex Cine 1' x 2' Daylight Kits, White 5' x 7' X-Drop Kit, FJ400 Strobe, FJ-X2m Trigger and Canon EOS R with Tether Tools Air Direct. His individual headshot sessions do not exceed an hour and a half by following a very precise workflow from the time the client books online to the moment the client receives the final images. His workflow includes scheduling the session with the client, tethering the images so the client can select the photos they want retouched, retouching the photos, and then providing the final images to the client.
To be time efficient, Yaneck prepares the studio prior to the client's arrival and always uses a partial triangle set-up with the Flex Cine Kit and two FJ400 strobes directed at the backdrop to light behind the subject. He utilizes three Flex Cine 1' x 2' LED mats, placing the main light at an angle above the subject, the second positioned vertically in relation to the subject, and the third horizontally on the bottom, creating an offset triangle lighting set up. In terms of the lighting ratios, the top two lights are powered at the same output and the lighting on the bottom is at half the power of the other two.
Be aware of the subjects positioning in this lighting set-up and avoid positioning their body with their face too far forward or away. If the photos are capturing deeper shadows in their eye sockets, your client is too close to the lighting. If the subject is positioned too far back, the lighting will fall flat. Finding the sweet spot between positioning your subject takes only a moment, and because Flex Cine mats are continuous lights, you can see where to make adjustments in real time.
Yaneck notes that as a headshot and portrait photographer, in-studio shoots allow more flexibility when using a high-key white X-Drop background. Without having any lights directed at the white backdrop, it appears grey. In this demonstrated photo shoot, Yaneck positions two FJ400 Strobes with power set to 4.8 facing the white X-Drop background. This brings out the white of the backdrop as desired, while avoiding blowing it out behind the subject. Another trick Yaneck likes to utilize is attaching a 1/2 CTO gel on the FJ400 to match the flash on the strobes to the Flex Cine LED lights.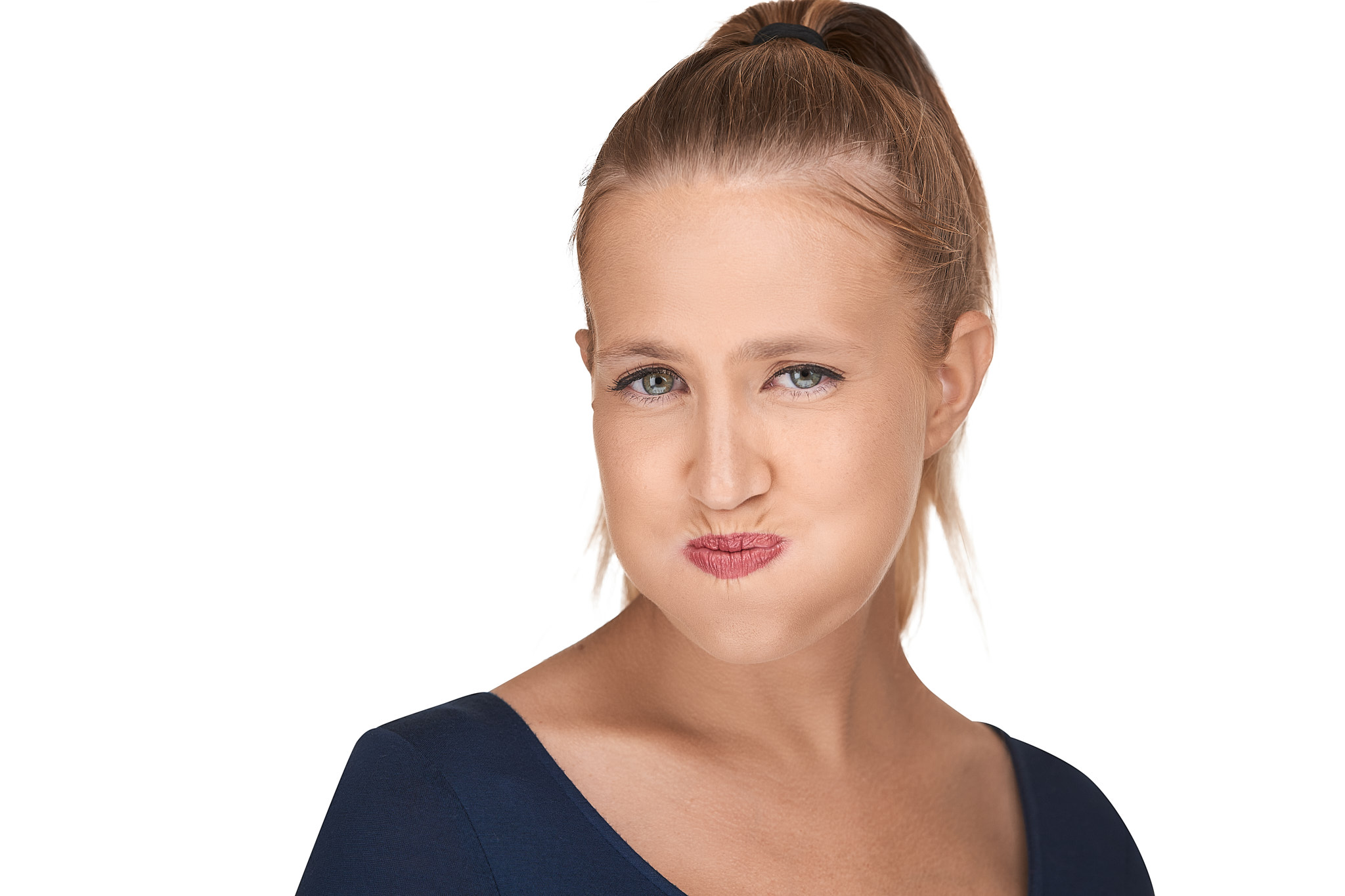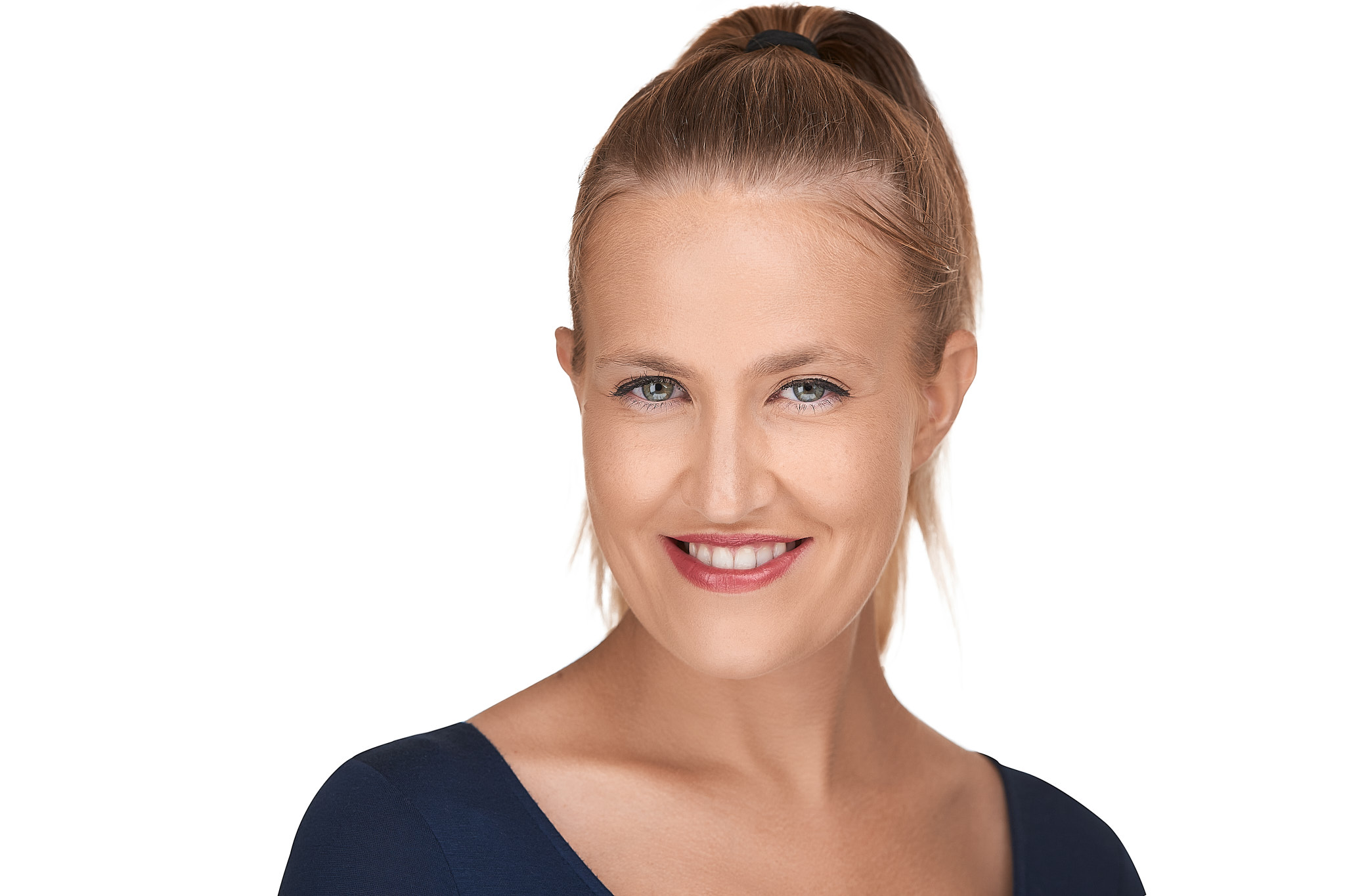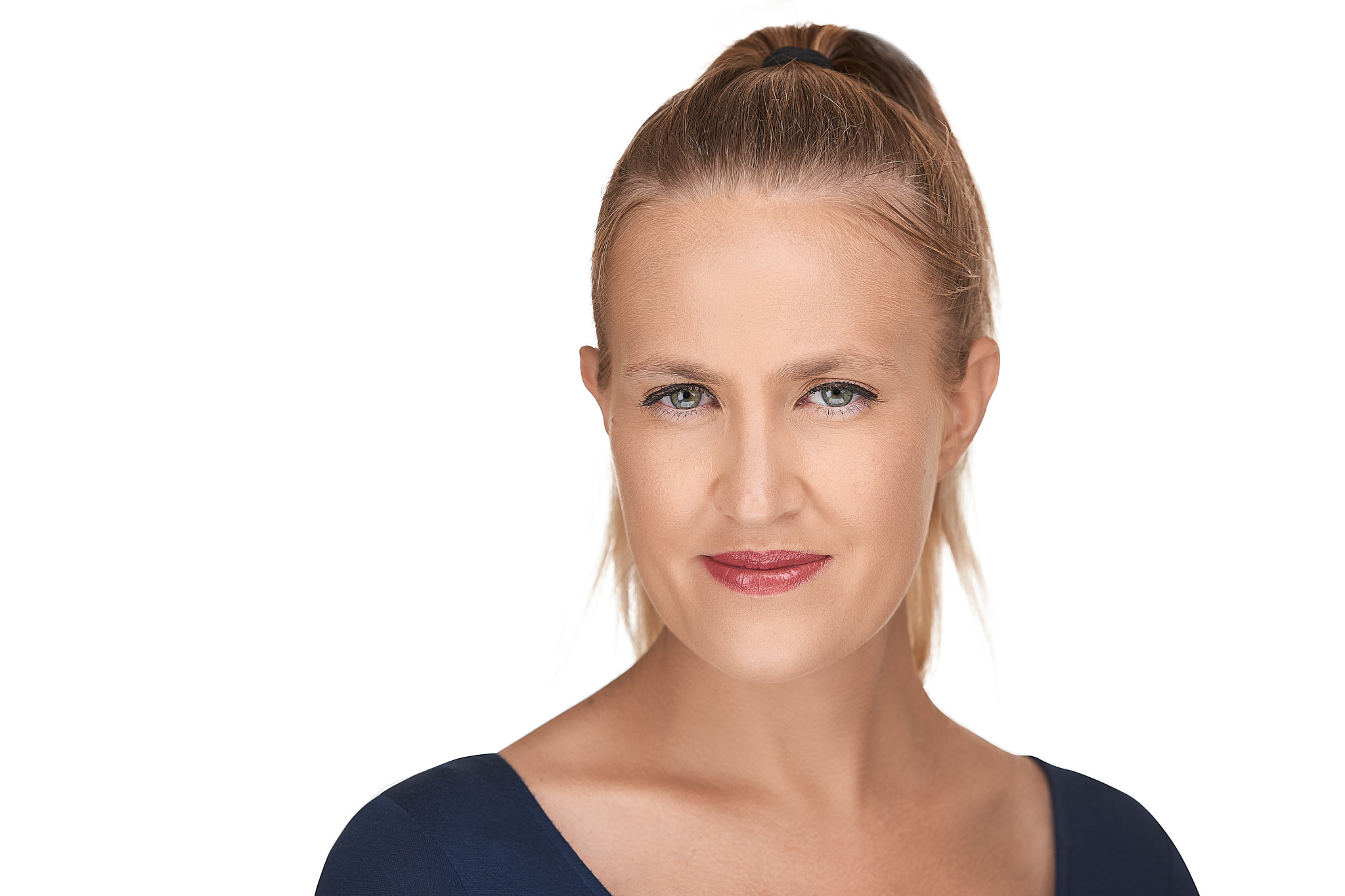 On-Location Headshots
On-location headshots are very similar to in-studio headshots in terms of how you'll prepare your lighting set-up. You'll want to be sure that your gear is well-organized and packed prior to the shoot, so no time is wasted when going off site from your studio. Yaneck uses two Tenba rolling cases for organizing his lighting and light modifiers separately. The Tenba Air Case Attache 3220 is utilized for his lighting gear and the Tenba 48 rolling case is for his softboxes.
The biggest difference between shooting on-location versus in the studio is the lack of control that you have in the overhead lighting at the location. To manage this, Yaneck does not rely on the LED lighting from the Flex Cine LED mats. Instead, he packs three FJ400 Strobes with two Rapid Box Switch 1x3 Softboxes and one Rapid Box Switch 1x2 Softbox. He creates the exact same triangular set-up that he uses with the Flex lights and knows with the strobes he is able to overpower any overhead lighting he's faced with.
On-location headshots may involve larger groups of people rather than an individual session, so he arranges no more than 10-minute shoots per person. Prior to setting up, Yaneck confirms the size of the space on-location, so he knows whether he needs a white background or a grey background. Shooting in too small of a space with the white backdrop that he shoots with in-studio will create a flare from the lights. When it comes to shooting on-location, using a grey background rather than a white background may be the better option. He finds in post production, it is easier to alter the Grey X-Drop backdrop to appear white, rather than editing a white background to look grey.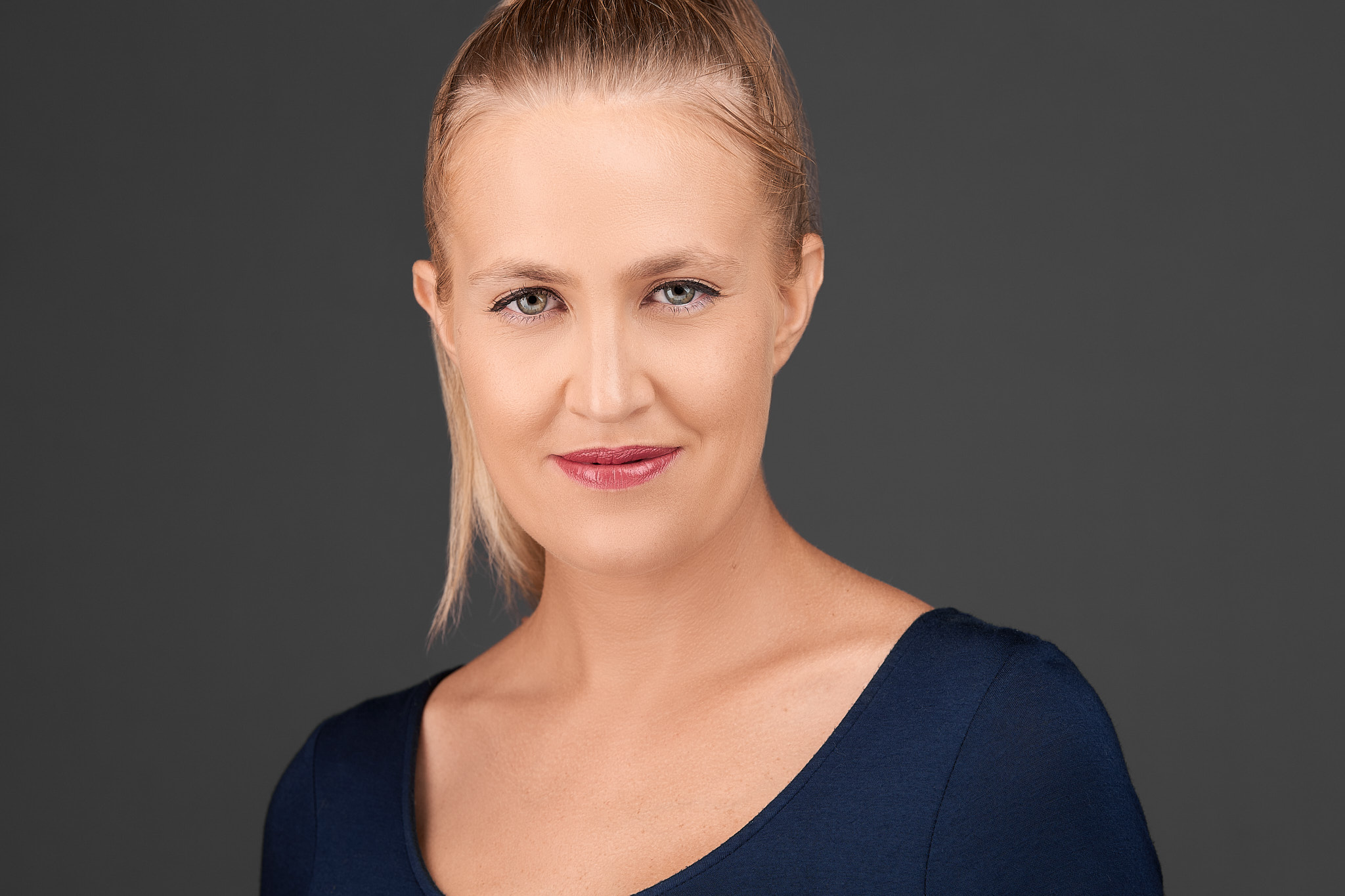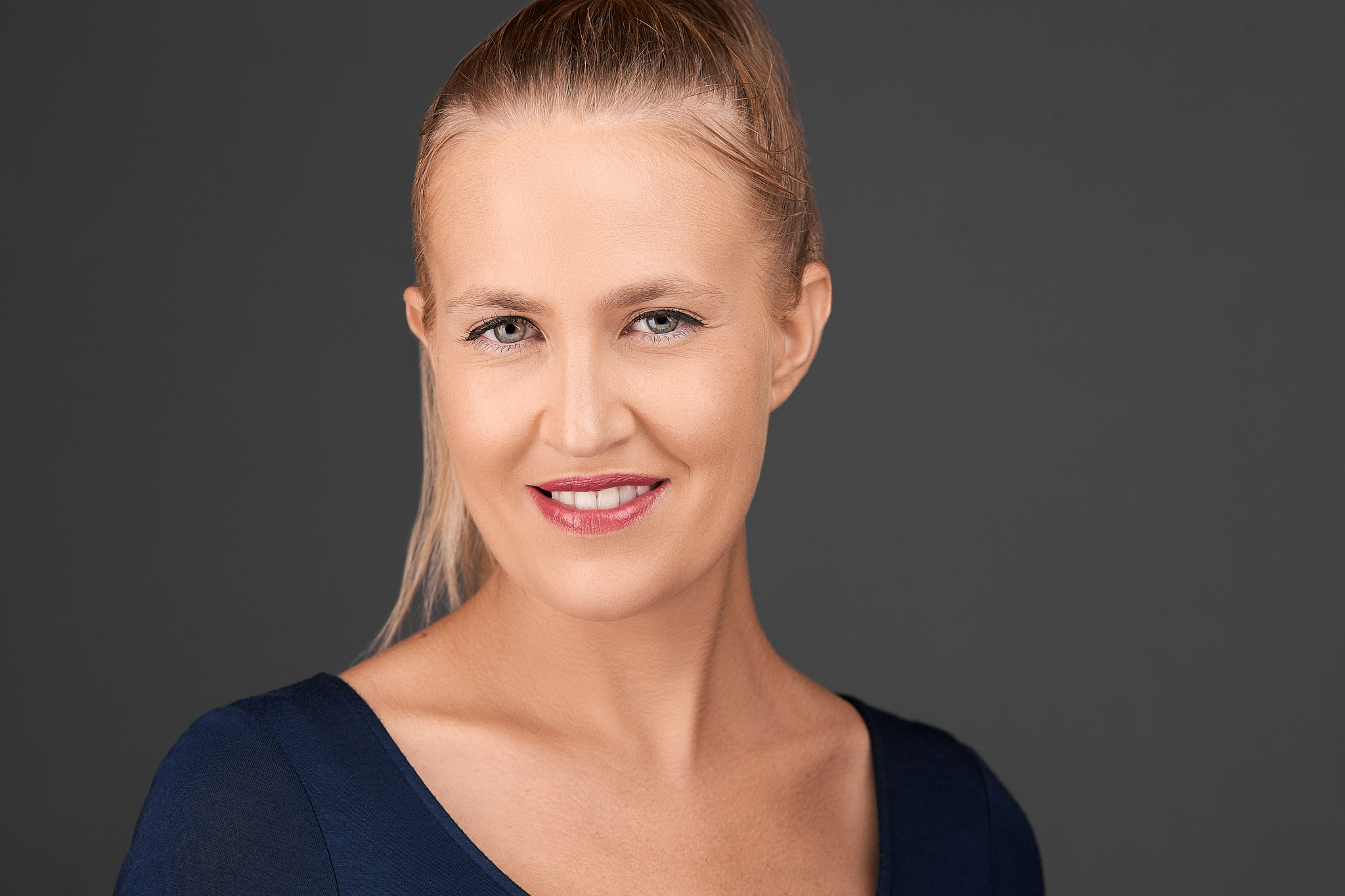 High-Volume Headshots
Photographing multiple people in a short time frame is typically meant for business events and conferences. In situations like this, you'll need to make sure that you are extremely efficient and delicate with lighting, posing, and processing to funnel through subjects quickly. Yaneck adjusts his workflow for large group sessions to make sure that his time is appropriately managed. Immediately after shooting the images, he creates small or medium-size RAW files of the photographs to ensure the transfer of files is fast. His lighting set-up in situations like this involve two Rapid Box Switch Octa-L softboxes in order to avoid adjusting the light for each individual's height because of the large light output they offer. He also positions the Eyelighter 2 below the light modifiers, which reduces reflections on subjects with glasses. Yaneck then captures between 6-10 photos per person and exports them to a tablet so each client can send the photos they choose to their email on the spot.
Takeaways
When it comes to capturing headshots for clients, there are three main groups to consider. Individual sessions, low-to-medium on-location sessions, or high-volume headshots for business events and conferences. All three have their similarities and differences, and will help you stay efficient with your time.
See how Peter Hurley creates flattering portraits with the Flex Cine Kit.
Lighting Gear in Action