You don't need a variety of light modifiers or multiple off-camera flash units to capture interesting and dynamic images. In this video, Will Cadena utilizes a single FJ400 Strobe modified by a Rapid Box with a few styling tricks to create some stunning fashion shots.
Will Cadena is a photographer who combines a modern, edgy look with traditional photography. His experience has given him the knowledge of traditional photography, and the skills to know when and how to break those traditional rules to deliver a whole new look to his images, without retouching. After finding an interesting location in an old warehouse, Will placed his model near a puddle, angling his shot to capture both his subject and her reflection. He then got creative, empty out one of his H2Pro water bags to capture a larger reflection. And finally, to create an even more dynamic shot, he used canned fog (also called atmosphere aerosol or haze-in-a-can) to add some texture into the scene.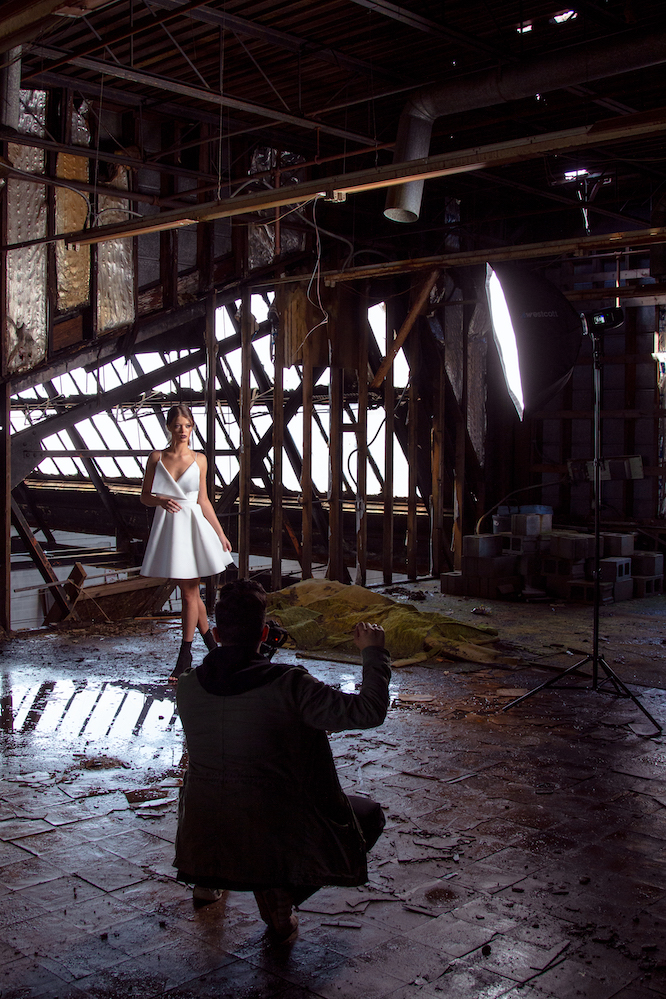 Using the FJ400 off-camera flash allowed Will to quickly move from location to location during the shoot, without worrying about cables or outlets. The FJ400 is the first portable 400Ws AC/DC strobe with under a second recycle time at full power. It offers 480+ full-power flashes per charge, so photographers don't have to worry about missing the shot. The lightweight FJ400 also offers an accurate color temperature throughout its entire 9-stop output range for accurate tones in portraits. 
The FJ400's extended flash tube provides optimal light output allowing for a wider, even spread for filling light modifiers. Equipped with a Bowens S-Type mounting system, the FJ400 is easy to pair with your favorite softbox. The FJ400 includes a Magnetic 5" Reflector, Magnetic CCT Gel Set, and a Rapid Box Switch Bowens Insert. This insert allows the pairing of a FJ400 with any of Westcott's popular Rapid Box Switch modifiers, including the Rapid Box Octa-M that Will uses.
Built with durable framework, long-lasting construction, and color-accurate fabrics, Rapid Box Switch modifiers are designed to withstand years of use on location or in the studio. The Rapid Box Switch's taut silver interior provides maximum light output for working in any environment. The Rapid Box Octa-M includes removable interior and exterior diffusers for customized soft lighting featuring the most color-accurate fabrics in the industry.
See how other pro photographers are using the FJ400 in the video below.
Watch more photography tricks and tutorials with Will Cadena here.
Gear in Action
FJ-X2m Universal Wireless Flash Trigger

4705