Are you looking to create multiple different shots in one photo shoot? In this tutorial, photographer and Top Pro, Ashley Boring, guides you through the lighting breakdown of three different looks from a floral inspired photo shoot. 
In a fun turn of events, rather than planning the shoot around specific styles, Ashley asked the model to come to the shoot with several looks that she wanted to model. One of the looks that her model brought was a pair of floral headpieces and a vintage dress. Both the headpieces and dress contained a lot of pink, green and yellow tones, leading Ashley to make the decision of capturing analogous tones against a pink background.

Her lighting breakdown consists of using the FJ200 off camera flash because of its powerful output and ability to fill light modifiers. Ashley knew she could easily move it around throughout the shoot as well because of its compact and lightweight design.
First Photo Shoot Look
For the first look, Ashley's goal was to create a very soft, almost painterly look, so she modified her FJ200 strobe with a 7' umbrella with silver bounce interior. This provided a very large and soft light source. She wanted to use a silver interior on the umbrella to add specularity to her highlights and maximize the output of the strobe. However, she wanted to achieve a very soft final capture, so she added an additional diffusion fabric to the front of the umbrella.
By placing her light to the right of her subject, she created a feathered look so she could capture a soft gradient and fill in any dark shadows. When testing her setup, she quickly noticed that she was losing a lot of details in the model's back, so she added in another FJ200 and modified it with a Rapid Box Switch 1×3 Strip softbox to create a bit of an edge light behind her. After she got her desired result, she decided to flip the setup and photograph her model from the other side. This allowed Ashley to capture another angle of her subject, while still placing the lighting in the same position.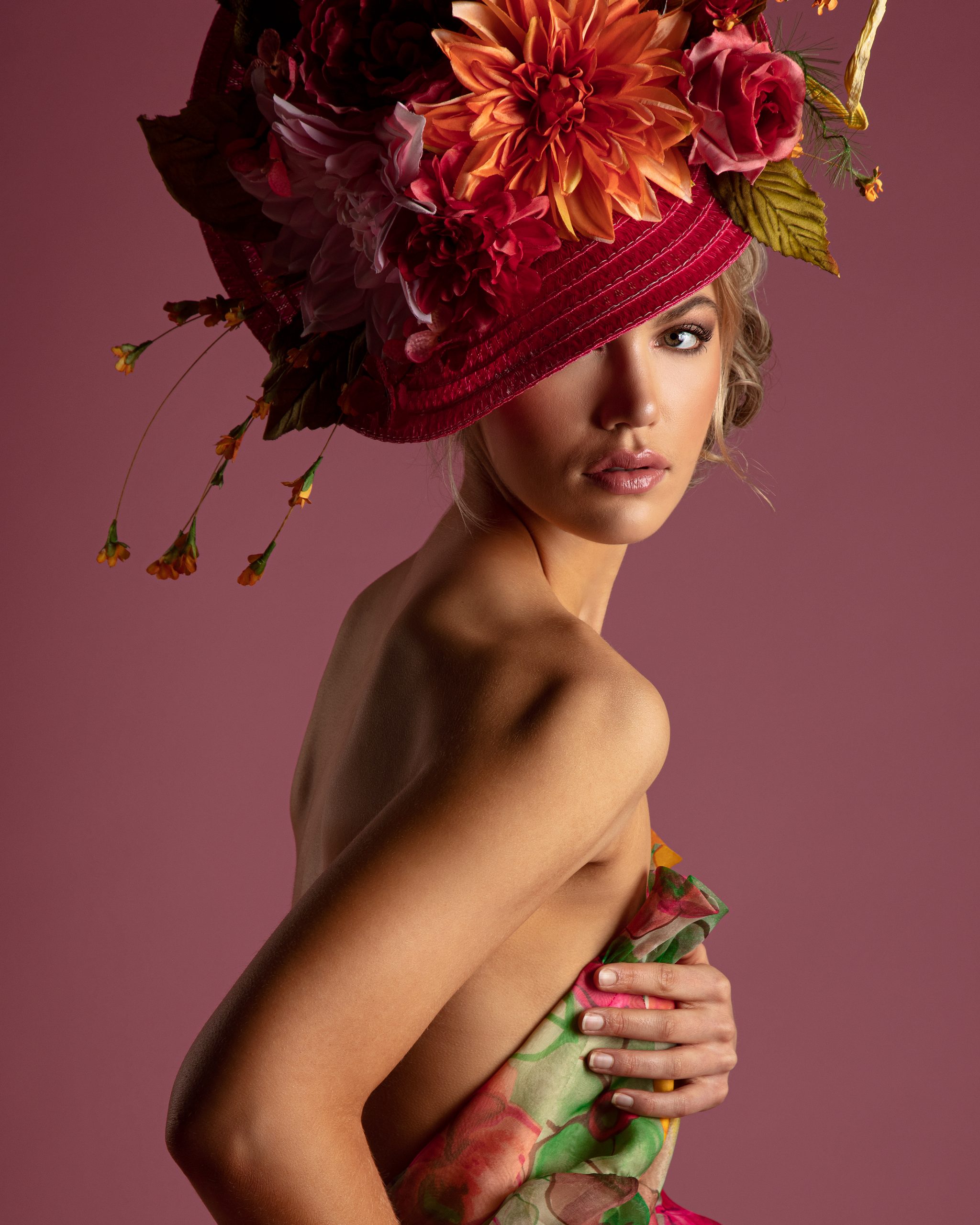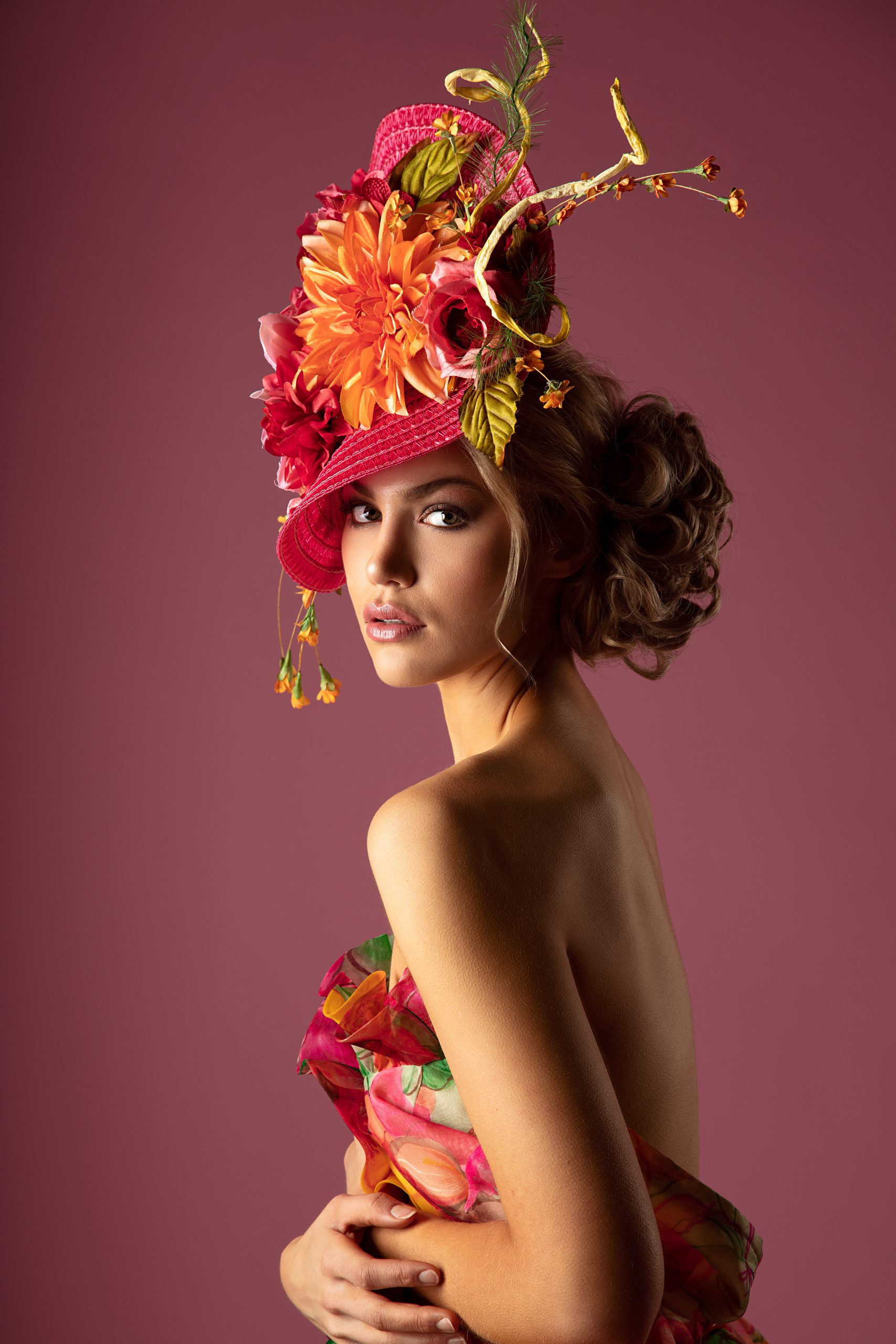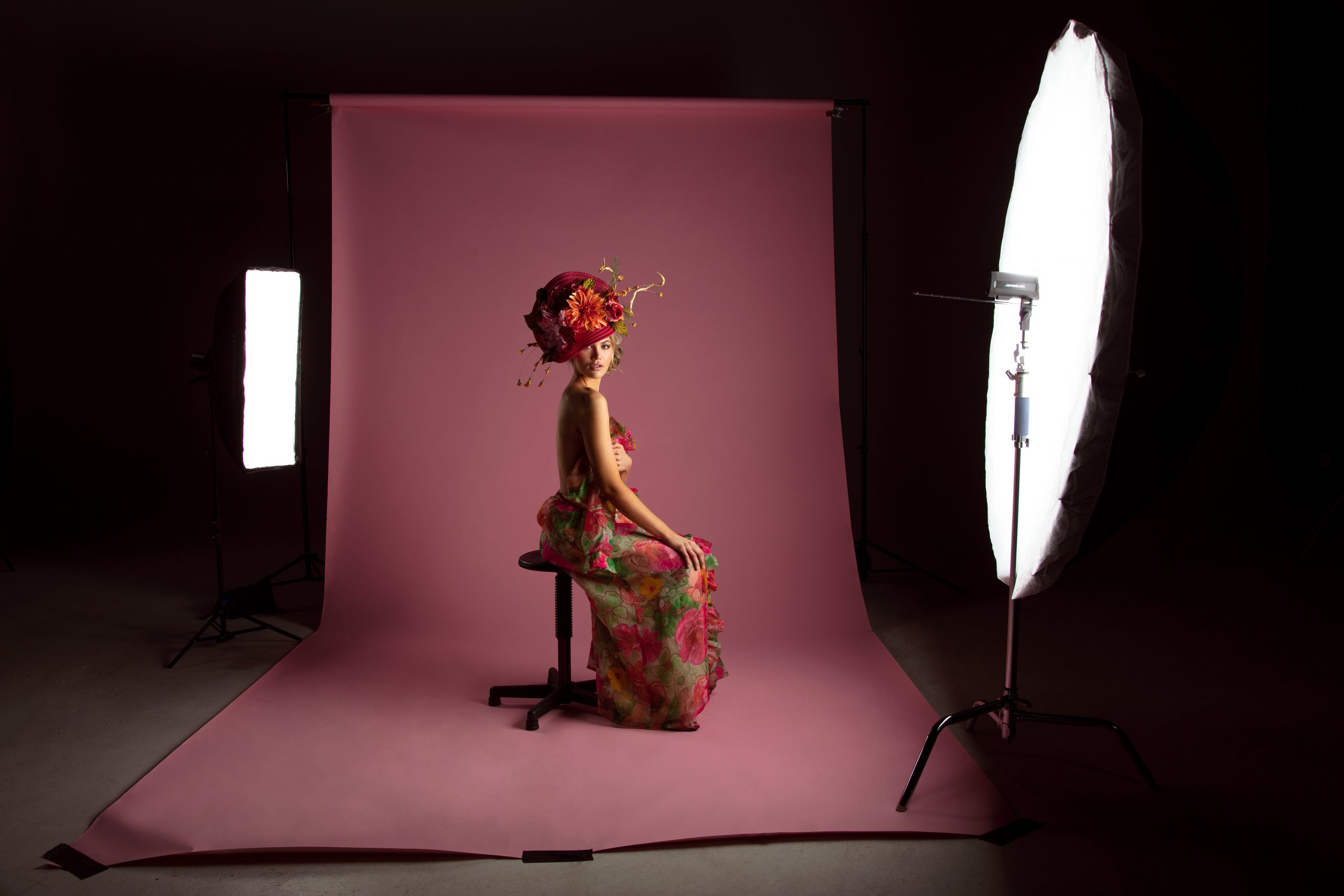 Second Photo Shoot Look
For her second look, Ashley set out to capture elegant beauty headshots. With this in mind, she knew she wanted her lighting to be even across her model's face and create more contrast with a harder light source. She swapped the 7' silver umbrella with a smaller 43" deep umbrella with silver interior to get a harder looking light source. This umbrella provides more control compared to a traditional umbrella due to its deep design, which also gives you the ability to change the beam angle of your light. She added a diffusion cover to the umbrella to help diffuse the light for additional softness in the final photo. To achieve the even light on her model's face, Ashley moved the light in front of her subject and angled it down in the butterfly position. She kept the Rapid Box Switch 1×3 Strip used in her previous look, to create a slight edge light that added dimension to the photo.
Lastly, Ashley wanted to fill in shadows that were being produced by her model's floral hat and under her chin, so she added an Eyelighter 2 reflector. The Eyelighter also added a stunning, curved highlight to her subject's eyes.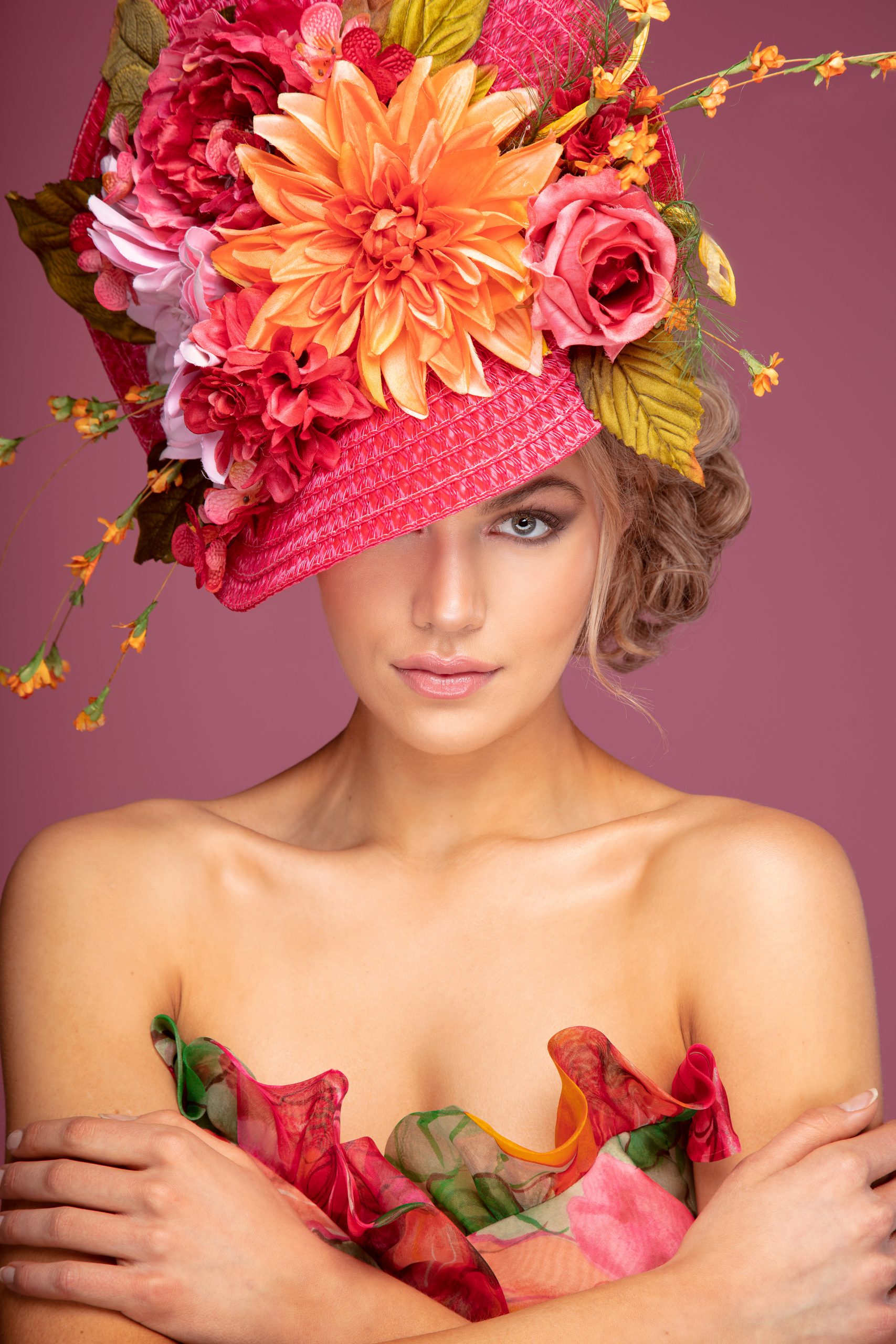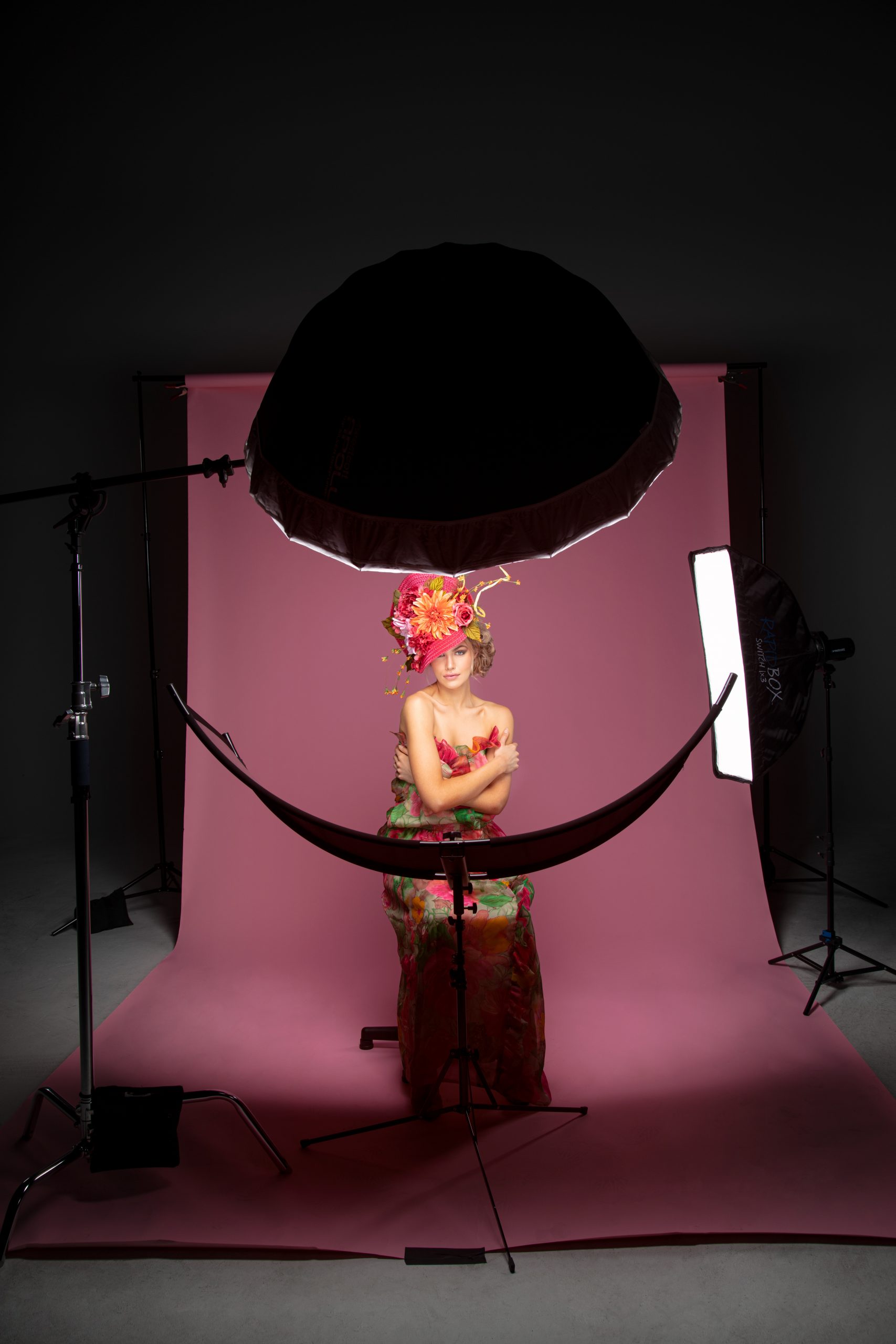 Third Photo Shoot Look
For her final shot, Ashley set out to capture an editorial look. This involved a new lighting setup, restyling of the headpiece, and adding pink gloves into the scene to give the model a fashion editorial look. In this setup, Ashley placed a table in front of her subject and covered it with the same background colored paper. This allows your subject to pose more naturally and gives the photographer a lot of variety for capturing different poses.
In this look, Ashley wanted a brighter pink background, so she placed the model and table closer to the background, allowing the light to fill the background and light the model. When doing this, make sure your subject is not too close to the background, this can cause a defined shadow. In this photo, she wanted a small shadow to hit the background to add some separation from the background and the table.
Breaking down her lighting setup, the first thing she did was remove the second light from her shot. Using a single light setup allowed her to keep it simple and clean. Ashley wanted a light that was directional but still flattering, so she made sure to place the 43" silver deep umbrella off to the side. She wanted to keep the deep umbrella with a diffusion cover because she felt it was perfect for this editorial look and created a larger light spread. It also allowed her to light a larger area for the model to work in while also being able to light the entire background.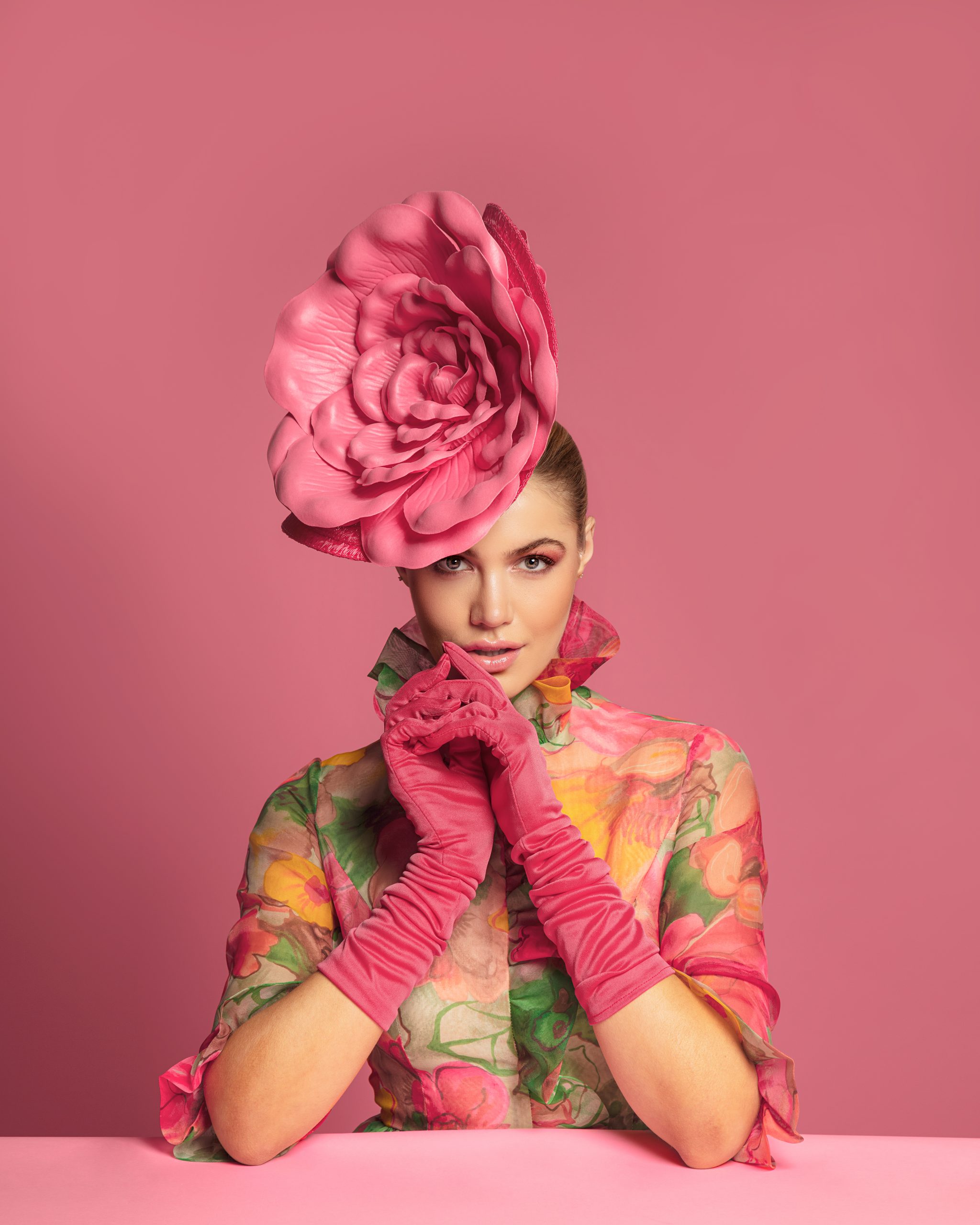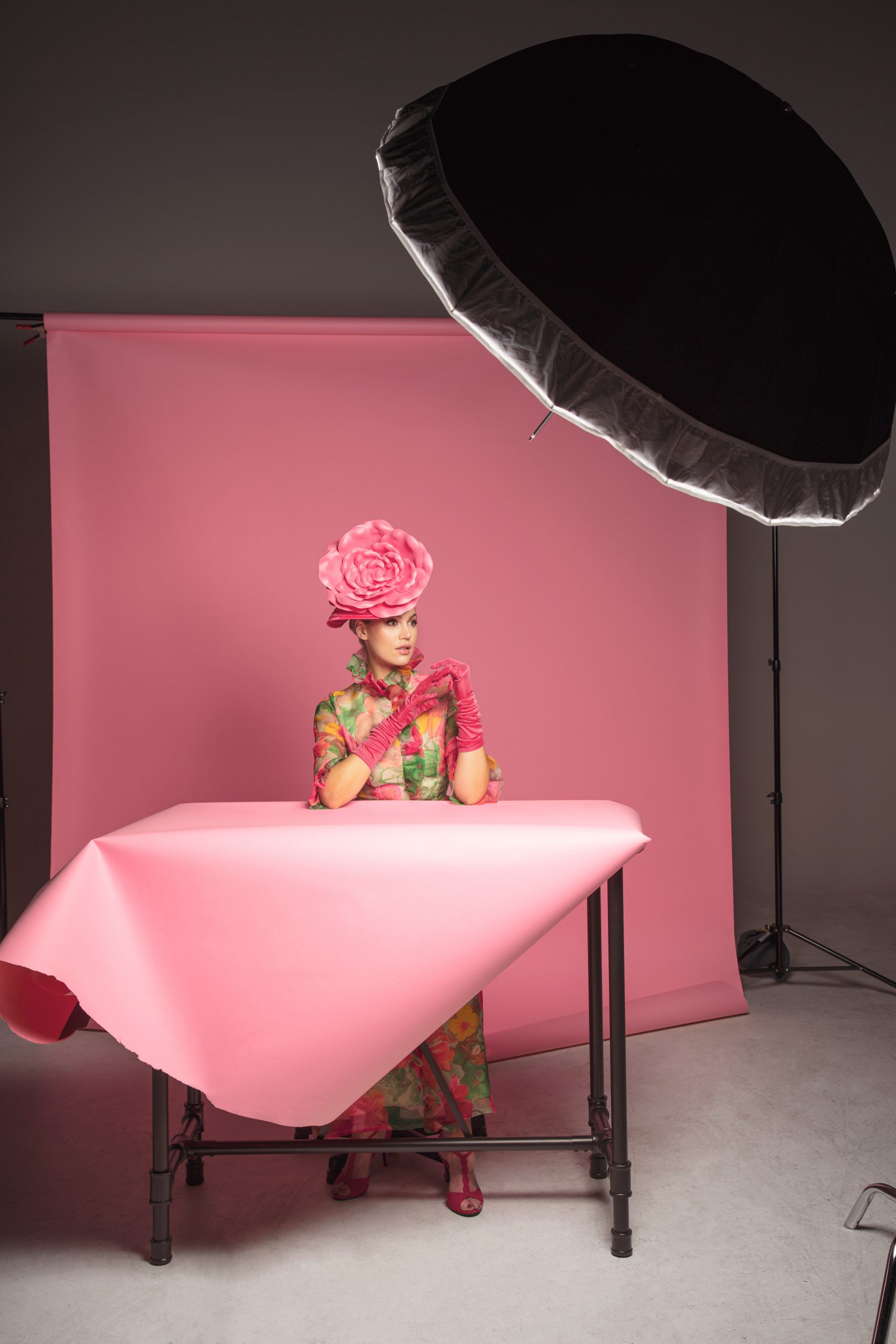 Because of their versatility, deep umbrellas are a great modifier for capturing multiple looks in one photo shoot. As you can see, photographers are able to use the umbrellas with or without the diffusion cover to create softer or more specular looks.